Step 2 : Recruitment 
The second stage of the employee life cycle is the employee recruitment stage.
The recruitment stage is just that; the active phase of finding great talent to join your organisation. This could be the result of an existing role becoming vacant  or a new position being created.

Lou Adler, CEO of the Adler Group shares his best recruitment tip : " We can raise the talent bar, but you have to do something different. You can't do what you are currently doing today."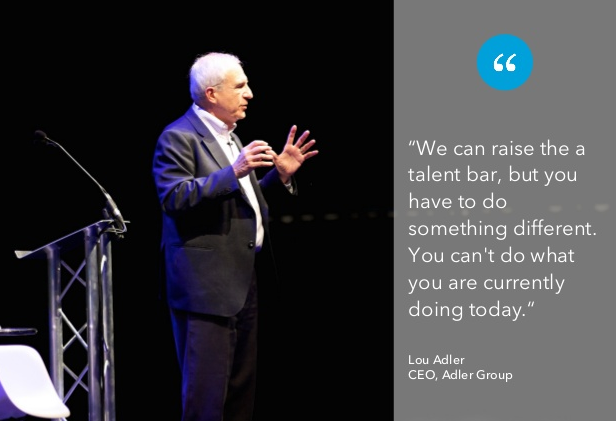 How Rezoomo can help :
Recruitment marketing is the strategies and tactics a company uses to find, attract, engage and nurture talent before they apply for a job, called the pre-applicant phase of talent acquisition.
We've built Rezoomo with a very precise objective which is to help companies build and promote their employer brand and company culture to attract the best talent while providing a powerful applicant tracking system to manage every aspect of their recruitment. We want to build a more immersive, engaging recruitment experience for both employers and job seekers alike.
It is no longer enough to simply post a text laden job on outdated jobs boards and hope that the right candidates come to you.
It is extremely time consuming to post your roles to multiple jobs boards, social media profiles and company websites. Do all of this and more with one click using your Rezoomo ATS:
✓ Post to Indeed, Glassdoor, CareerJet, Simply Hired, Joprapido and more
✓ Connect your social media profiles and automatically tweet and share your roles across Facebook, Twitter and Linkedin
✓ Use your Rezoomo link to manage all applicant from other jobs boards such as jobs.ie and IrishJobs
Four tips to succeed in the recruitment stage
Here are four great tips on how to succeed in recruiting the right talent for your team.
Ask for referrals from your team
Your greatest recruitment filter is often your own existing employees. As members of your industry, it is likely that they may have people they know who could be a perfect fit. Be careful though, to avoid hiring close friends of family of existing employees, as this can make the team dynamic very difficult.
Try Rezoomo as a recruitment platform
Think outside the box; where is it that many of your ideal candidates may be? Integrate Rezoomo with your companies website career page and social media platforms allowing you to attract talent from a number of various portals. Rezoomo attract quality hires, saving you time and money.
Be specific in who you are looking for
The worst employment advertisements are the ones that are very vague. Sure, it may be your plan to cast a wider net, however you should be careful to list all your pre-requisites to save both you and the candidates time in applying and assessing. Read our blog on how to write great job descriptions to help you as a guideline when writing your own.
Involve your existing employees
As well as asking if your current employees know a good candidate, you could also request they help determine the best requirements for the role, and also assist you in reviewing the resumes and qualifications of any potential candidates.
You can also request that someone in a very similar role joins you in the interview process, to assess the candidates fit within the team.
Further reading on employee recruitment
Here are some great articles on employee recruitment, to help you explore this phase further.
Developing a Strong Online Presence To Attract The Best Employees
How To Get The Best Results From Recruitment Marketing
Costs Of Bad Hires and How To Avoid Them
How To Create A Facebook Career Page
Join these great companies and more hiring on Rezoomo.com 

If you liked this you might also like : Employee Life Cycle & Rezoomo for Successful Hiring [1]