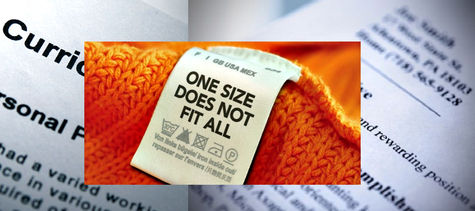 A big mistake that job seekers make: They use the same CV for every job possibility regardless of the industry or job title. It's a strategy that some recruiting experts say will get you nowhere fast. "Always submit a customized CV," says Tory Johnson, workplace contributor to ABC's "Good Morning America" and CEO of recruiting firm Women for Hire in New York.
Tailoring your CV to a specific job can benefit you for a number of reasons. First, prospective employers are likely to see you as more qualified when everything on your CV is relevant. Second, some employers are impressed that you took the time to tailor your CV. This bodes well for your interview prospects. When you successfully tailor your CV, you not only show prospective employers that you have the skills and experience they are seeking, but that you are the right candidate for the job.
Follow our tips to customize your CV the right way and land that job!:
#1. The most important thing to when you begin to tailor your CV towards a particular job is to read the job description thoroughly. And then read it again! Making sure you understand this brief is vital if you are to target them effectively with your CV. You should make a note of any keywords in the job description and focus your CV around them. Remember, two jobs in the same field, even ones with the same or similar title, can call for different requirements and skills.
#2. Language is very important in a CV.  It is vital that you match the keywords in your CV to those in the job description, as the recruiter will likely use software to read your CV and will be looking for these words, for example: spreadsheets, information technology, management, payroll, supervisor, Java etc. Also, make sure to use positive language and incorporate your 'selling words', such as 'instigated', 'accomplished', 'effectively', 'enthusiastically', 'creatively'. Similarly, avoid negative language including words such as 'attempted', 'quite', 'abandoned', 'a little'.
#3. Use your cover letter/ video introduction effectively to get across why you want this particular role and why you would be of value to the company. Try and briefly explain what you want to achieve, e.g. "targeting analyst positions in venture-capital firms" instead of "looking to secure an entry-level position." To read more about successfully using a video introduction, read our blog here.
---
Looking to start your job search? Check out our latest roles on Rezoomo now
---