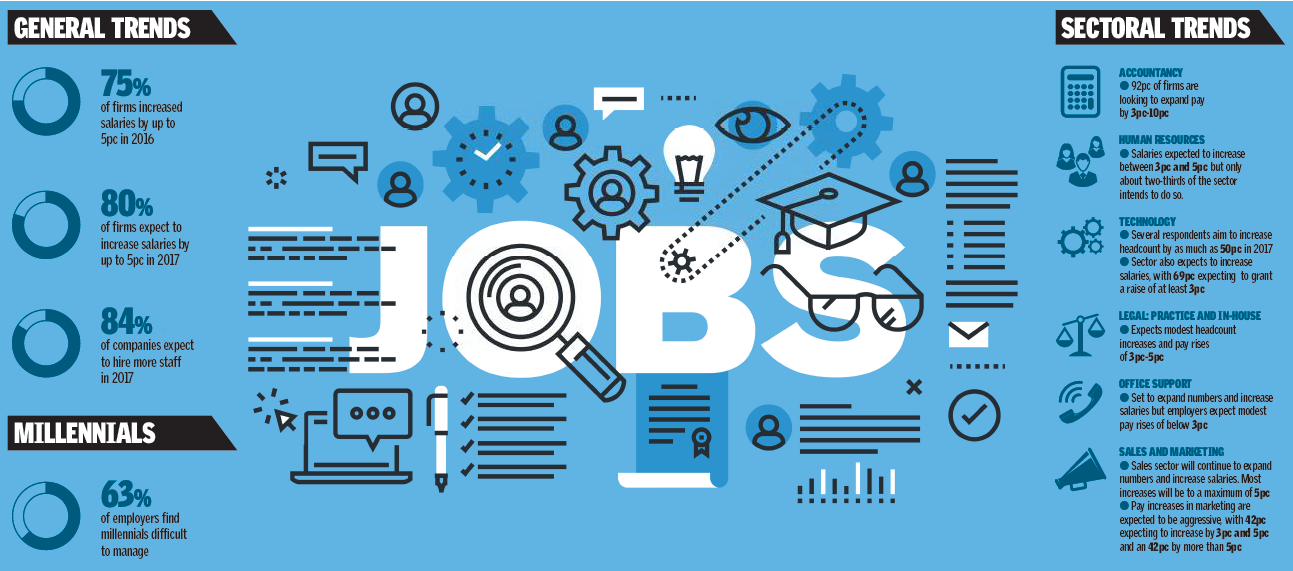 Uncertainty surrounding Brexit and a Trump presidency has done little to dampen expectations of wage growth in Ireland for 2017
According to detailed research across companies and staff in areas such as technology, accounting, law and sales and marketing, more than three quarters (77pc) of employees have entered into the New Year with hopes of a pay rise.
Surprisingly, an even higher proportion of companies are planning to grant those pay hikes, despite a myriad of concerns identified among employers.
According to the Abrivia annual salary survey, in association with Trinity College Dublin, 75pc of firms increased salaries by up to 5pc in 2016. Also, 80pc expect to increase salaries again in 2017 by a similar amount. They are optimistic about hiring too, with 84pc of firms expecting to take on more staff.
However, this optimism is peppered with notes of caution.
For example, the sales and marketing sector is noted to be one of those most fearful of the implications of Brexit.
The sales sector will continue to expand numbers and increase salaries, the research across 2,250 employees and 502 employers found. Most pay increases for sales staff are expected to come in at under 5pc.
"Sales is one of the sectors most fearful of the impact of Brexit. Clearly, sales see damage to their profitability from the UK leaving the EU," the report said.
Similarly, the marketing sector will continue to expand numbers and increase salaries. Salary increases are expected to be more aggressive, with 42pc expecting to increase pay by 3 to 5pc and an 42pc by more than 5pc. This is despite the fact that, along with the sales sector, marketing companies fear the most from Brexit in terms of profitability and pay. This may be largely due to the fact that the sector is domestically focused.
One of the stronger sectors for 2017 is anticipated to be accountancy. This is being driven by demand from multinationals and plcs.
Areas such as consumer goods, pharmaceutical, technology, healthcare and shared service centres have seen increased demand for accounting professionals.
"This has largely been due to continued investment in Ireland by many of these companies as a European hub for their expansion," the study by recruiter Abrivia said.
"We also saw that hiring activity increased within the SME and mid-sized indigenous business sector," it said.
"Candidates are benefiting from competitive remuneration packages and have a range of desirable opportunities to choose from."
Last year, there was a 29pc increase for qualified accounting positions from the previous year. There was also growth in senior roles in the industry and commerce markets.
"These include CFO, head of finance, finance director and financial controller opportunities with salaries ranging from €80,000 to €160,000," it said.
While Brexit is a significant concern for employers generally, there are many local issues at play, with 30pc seeing housing or the rental market as an impediment to hiring.
For example, the report estimates that employees wishing to live "responsibly" in South County Dublin would require a post-tax salary of €62,500. That would require a gross salary of over €100,000.
While housing is a concern, the primary consideration for employers is taxation. Just over half of firms surveyed find the marginal tax rate an impediment to the recruitment of international staff. However, this varies from sector to sector.
Accountancy, sales and "other" sectors such as construction and manufacturing see the tax rate as a problem at 88pc, 59pc and 53pc respectively.
"It is not surprising that accountancy sees it as the largest impediment given their specialist knowledge and ability to understand the intricacies of regulatory arbitrage," the report said.
It said staff retention may become more important in uncertain times and looked at the reasons human resources (HR) managers believed staff left a company compared to employee reasons.
Both HR managers and employees rank the lacking of career advancement opportunities as the most important reason to leave the organisation.
The second main reason for employees to leave is unhappiness with organisational culture. This is followed by dissatisfaction with management and low pay. However, HR managers ranked pay as the second reason people left.
The report also flagged concerns about the level of private pension provisioning by workers. While 56pc of respondents have a private pension across all sectors, many sectors have very low levels.
People in marketing and the legal profession have particularly low levels of private pension uptake.
In response to the follow-up question to those without a private pension, 60pc across all sectors said that they were not contemplating purchasing a private pension within the next 12 months.
This study also looked at the place of younger workers or millennials in the workforce.
Almost two-thirds of employers said they find millennials difficult to manage, with companies in law, marketing and ICT experiencing the greatest difficulty in managing this group.
The report said that may reflect that this highly educated group is facing into a generally more hostile labour and housing market than their predecessors.
"Real wages fell for this grouping because of the recession and youth unemployment rates were very high," it said. In Ireland, the youth unemployment rate is still around 20pc.
Millennials (born between 1979 and 1994) also perceive their workload to be higher. For example, when asked if they feel if there is too much work to do everything well, 14pc of millennials strongly agree with this compared to 6pc among Generation X (born between 1965 and 1978) and 2pc in Baby Boomers (born between 1946 and 1964).
---
Looking to start your jobsearch? Check out our latest roles on Rezoomo now
---