As a HR professional, employer branding is key to any recruitment strategy and is a fundamental must have in every company especially if you consistently want to hire quality candidates faster.
For companies that are unsure about why they would need employer branding, we have put together 10 employer branding stats that you need to know.
The Important Statistics
1. Linkedin reports that companies that have a stronger employer brand compared to those of their competitors on average see a 43% decrease in the cost per candidate they hire.
Companies found that by investing money in their employer brand for their business. They save money on advertising and marketing campaigns around recruitment. Naturally, attracting talent with an attractive employer brand.
2. 75% of job seekers consider an employer's brand before even applying for a job (CareerArc).
In order to attract the best candidates, it is important for companies to position themselves as the first choice in their field and reflect the true personality of their brand.
3. Candidates trust employees 3x more than the employer to provide information on working at the company.
Empowering your employees and letting them tell their story is a great way to establish credibility. It also helps to build an overall stronger employer brand.

4. 44% of people are more likely to engage with brands if they post pictures than any other media.
In this study, referenced by Fast Company, the reasoning stated that images have become our way of sorting through and understanding the huge amounts of data we're exposed to each day.
5. 92% of candidates say they would consider leaving their current jobs if a company with an excellent corporate reputation offered them another role (Cro). 
People are a lot more inclined to make a career move when it's to a company they have strong positive associations with.  A strong employer brand will help you to source candidates.
6. According to Linkedin, 80% of talent leaders agree that employer brand has a significant impact on their ability to hire great talent.
When in doubt, do as the experts do. Talent leaders – the people who are the closest to recruiting strategies – are strongly in agreement that a company's employer brand can meaningfully help or hurt its overall recruiting efforts.
7. 94% of candidates are likely to apply for a job if a company actively manages its employer brand. 91% of job seekers find a poorly managed or designed online presence damaging to an employer brand.
This isn't surprising an employer brand should be part of not only your recruitment strategy but your marketing strategy. Keeping it updated is essential as an inactive page can affect your reputation and discourage candidates from applying.
8. Companies with a strong employer brand see 50% more qualified applicants and take 1-2x faster to hire. (Linkedin)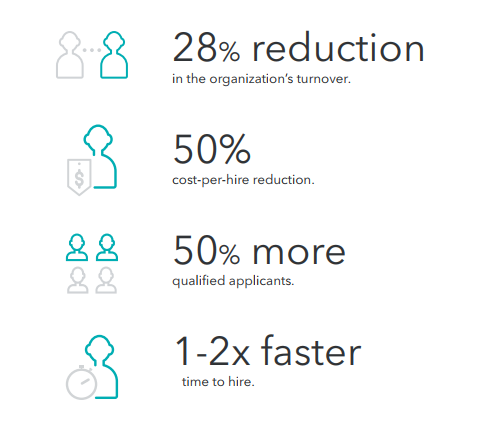 9. 88% of millennials believe that being part of the right company culture is very important. These all factor into your overall employer brand.
10. 80% of talent acquisition managers believe that employer branding has a significant impact on the ability to hire great talent. Source: LinkedIn
---