Google, Facebook, and Apple have a huge presence in the recruitment industry. With many people aspiring to work for one of these companies how can you compete with them?
Well, you can't or so you may think. Many companies think that it would take a lifetime to get the reputation that these organizations have but even if you aren't that well known you can still attract talent the same way they do.
Well, the secret to competing for top talent is by communicating your employer brand and telling your story. What is it that your company has to offer candidates that makes you different from your competition?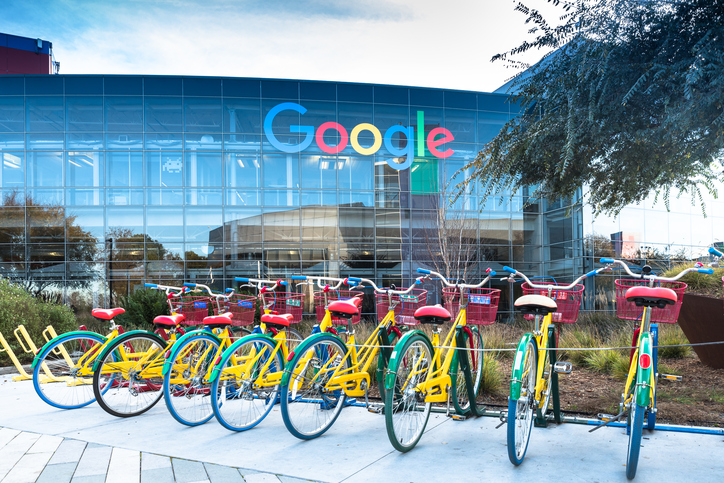 To put it in perspective recruitment is marketing and if you are not marketing your company to potential candidates you are missing out on the opportunity to attract top talent. Up to 80% of companies go unheard of to candidates because they don't market their employer brand online.
Big brands like Google have a greater opportunity of finding talent because of their employer brand, the way they represent themselves online and it makes them recognizable and they simply attract candidates for that reason alone. Ok, they do have larger resources available to them but that doesn't mean that you can't do it.
Creating a powerful and consistent employer brand and marketing it to candidates will attract them and make them want to work for you without even hearing about actual jobs. That is the power employer branding has.
Why is employer branding so important?
Employer branding is becoming strategically more important to CEOs and HR and marketing leaders. According to Harvard Business Review, a third of companies are looking to build their global employer branding by 2020. In fact, many leaders now believe the responsibility for the employer brand is with the CEO or marketing rather than recruiters or HR with  60% of CEOs saying it lies with them.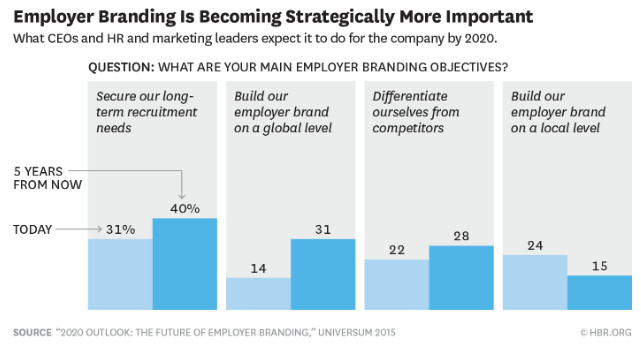 This rising trend means that employers promoting their presence is becoming more important in order to attract and retain talent. There is currently a gap between candidates' expectations and reality, as LinkedIn research showed recruiters fail to communicate the values of the hiring company in 55% of cases.
A recent study carried out by CIPD showed that given the skills shortages being experienced by employers, growing the talent pipeline is a critical issue  Similar to their survey carried out last year one of the most popular methods is investing in the employer brand.
Retaining staff remains an issue, with 43% reporting an increase in voluntary employee turnover in the last year. A fifth reported an employee turnover rate of between 6% and 9%in the last year, and 20% reported an employee turnover rate of 10% to 15% for the same period.
Employer branding is clearly important, but this isn't always appreciated by employers wondering why they're struggling to hire and retain the best talent. So, what is the best way for companies to boost their employer brand?
Building an employer brand to attract and retain
As an employer, what sort of working environment and culture do you offer and are you communicating that to the outside world as well as within your organisation?
Career Site
Potential candidates first port of call may be your companies career page or your corporate profile. It provides an excellent resource for them with information about current roles, future roles, company mission, values and culture and also employee testimonials.
These pages allow you to give the candidates a sneak peek into what it's like to work for your company. If you do not have one of these pages it's important to set one up as a resource that can help you attract talent.
Social Media
Social media is an excellent platform for you to promote your companies employer brand. Start a Facebook careers page that will allow potential candidates to see what is going on at your company and one that allows your current employees to interact and share photos, videos, and even upcoming roles.
Put a plan in place
When putting a recruitment strategy together you will need to decide: Who is it you want to attract? and where is it that they will find you?
One simple way of finding these things out is by looking at data gathered from your precious recruiting success. Your best advocates are your current team so by getting them involved it allows you to build a strategy with the information that has already worked.
Get your employees involved
Building an employer brand shouldn't just be about attracting new talent but retaining also. By building a strong brand you are giving current employees something to be involved in and something that they are proud to be a part of, a great company to work for.
Gathering employee testimonials, creating a day in the life of videos, showcasing staff outings is a great way to get everybody's input and build a transparent employer brand that will attract that top talent you are looking for.
Get more tips & advice on building your employer brand with our guide – 10 Steps To Building A Succesful Employer Brand available to download now for free