Facebook isn't just the most wildly successful social network online, it's also a place to post your jobs and find qualified candidates.
So many of us spend so much of our time on Facebook that it's a natural place to let people know that you're hiring. Creating a career page is the best way to advertise your jobs and is a great way to show potential candidates your employer brand.
We have outlined some of the details you should include on your page to really help you engage with top talent. (click on the image to enlarge)
Creating a Facebook Careers Page :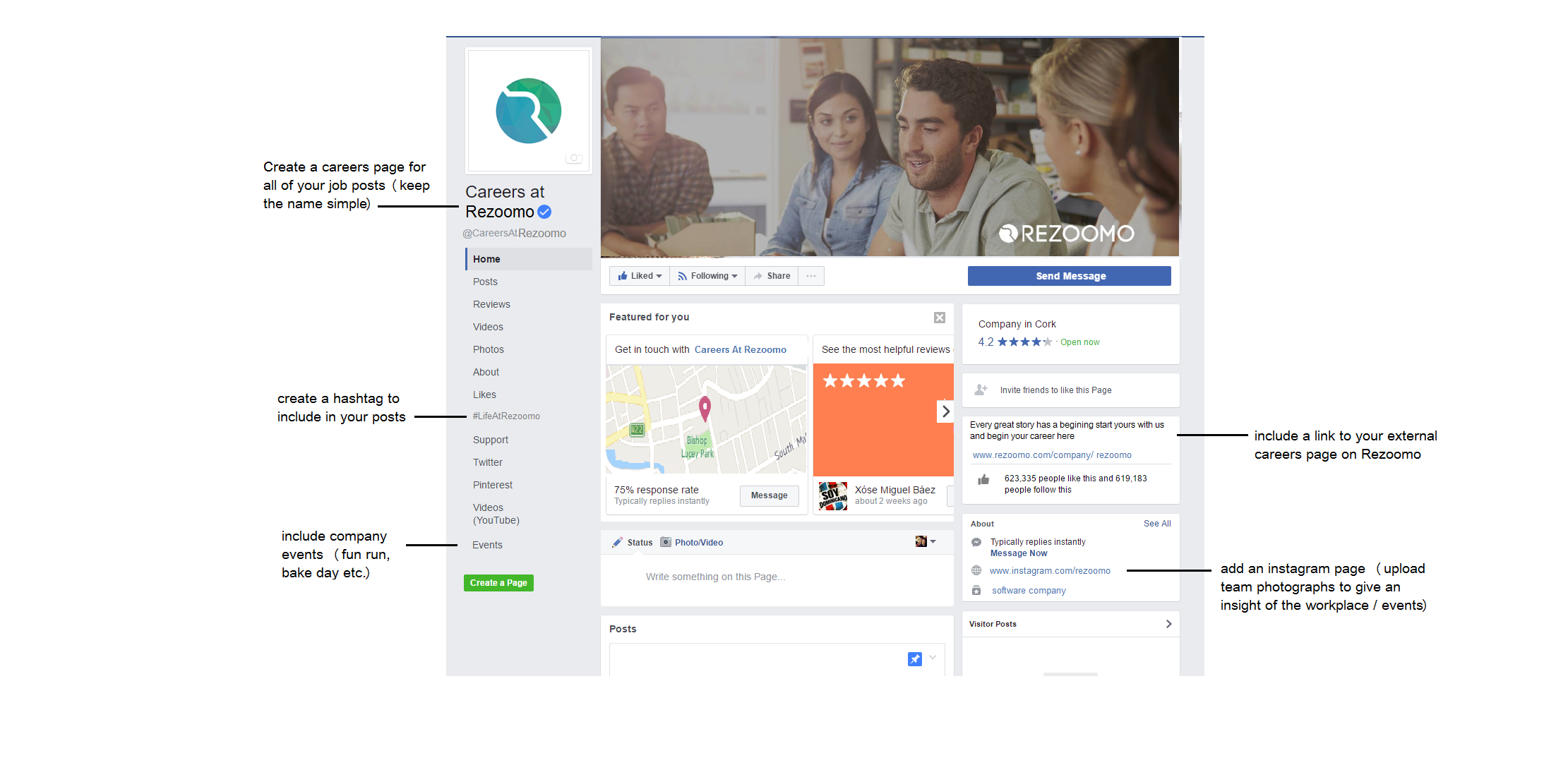 Creating engaging posts 
Some writing advice. More than half of all Facebook sharing happens on a mobile device, such as a smartphone. Write for the reader who is skimming posts. Instead of worrying about the ideal length of a Facebook post, make sure that your first four words grab your reader's attention. Learn more about how to write the perfect job description here.
Facebook posts with images have twice the engagement of posts without images. Use images that show candidates why they would want to work for you. Gorgeous offices, fun coworkers, and unique perks are all good bets. The thumbnail image in shared links is okay, but it's better to upload one or more full-sized images. Alternatively, you can post a GIF by pasting the link into the status update or upload a video. Videos play automatically on Facebook, which makes them stand out in people's news feeds.
Boost those posts
If you're looking for qualified candidates in a hurry, try a sponsored post on Facebook. You can turn any Facebook post into a sponsored post clicking the "Boost Post" button. Here's what boosting a post looks like on Workable's Facebook:
Once you've done that, use Facebook's targeting options to zero in on the right candidate for your job. Useful targeting options include location, current workplace, education level and "liked" pages.
With sponsored Facebook job postings, you can grab the attention of highly-targeted candidates. The cost to boost a post on Facebook varies, depending on how many people you want to reach. If you set a budget, Facebook determines how many people you can reach with your post, depending on the targeting options you've chosen.