In today's job market, top talent has plenty of options. To win the hearts and minds of the best and the brightest, you have to stand out from the crowd.
Below are a few examples of organisations who are absolutely smashing the process of recruitment marketing.
The Magic of a Red Brick
When it comes to advertising, there are few companies as well known or regarded as Ogilvy.
Concerned that advertising had strayed too far from the business of salesmanship, the company decided in 2010 to go back to its roots and begin a search for the world's greatest salesperson!
The recruitment campaign which was promoted worldwide using YouTube and social media; challenged worthy salespeople to submit a video entry – wherein candidates pitched a red brick. The campaign was hugely successful, catching the attention of the global media and generating over 234 quality submissions from across the world.  
3 Finalists were invited to pitch an actual product (for a Ogilvy client) at the 57th annual Cannes Lion International Advertising Festival. The winner received a paid fellowship at what is arguably the world's leading marketing & sales agency.  
Master Builders Unite
If The Lego Movie taught us anything, it's that Master Builders have some serious skillz. In a bid to recruit the next generation of master builders, Lego held a competition called Brick Factor.
The competition which was promoted heavily via social media, required candidates to assemble at a local landmark for what was essentially a 'brick off'. Candidates (or contestants) were given a theme and set time frame to build a Lego masterpiece. The competition involved a three round knockout format; before a live audience. The last man/woman standing was hired on the spot!
No one does efficiency like the Swedes
In an effort to recruit passionate staff for their expanding Australian outfit, IKEA created a set of instructions for 'assembling a career' and inserted them into every single flat pack of furniture.
The campaign, which cost virtually nothing to execute, helped the brand to connect with the very people who knew and loved the brand. Not only that but it resulted in 4285 quality applications and 280 new hires.
And of course its not just companies that can demonstrate creativity with recruitment, but job seekers too…
Jobless Paddy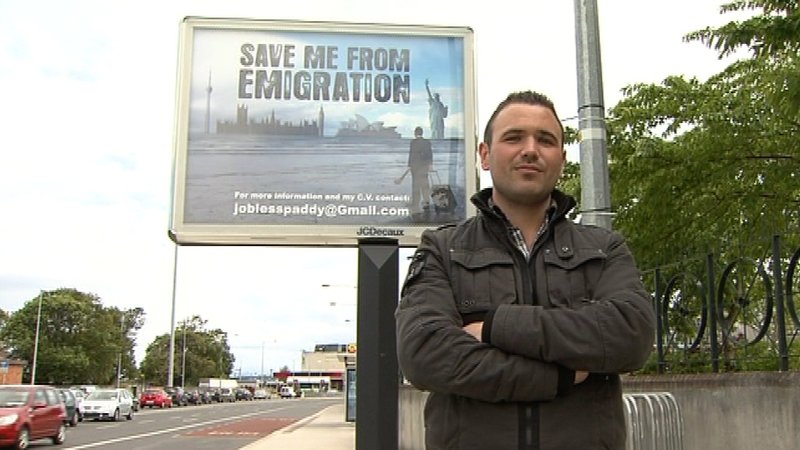 Source: RTE
Who could forget the story of Feilim Mac An Iomaire, otherwise known as 'the Jobless Paddy'. A marketing graduate from Connemara, Feilim spent 9 unsuccessful months looking for a job in Ireland; having returned from a stint aboard.
Still unemployed, Feilim decided to take his remaining savings and invest in a billboard ad (€2,000) advertising himself! His gamble paid off – with Feilim successfully landing a much sought after PR role with Paddy Power.
Link to story: https://www.irishtimes.com/news/jobseeker-employs-sales-skills-in-last-ditch-appeal-1.586623