Time to get your diaries out. We have the hottest upcoming HR events that you should be attending in June. Pens at the ready (or just simply click on the event to add to your google calendar!)
June 2018 HR Events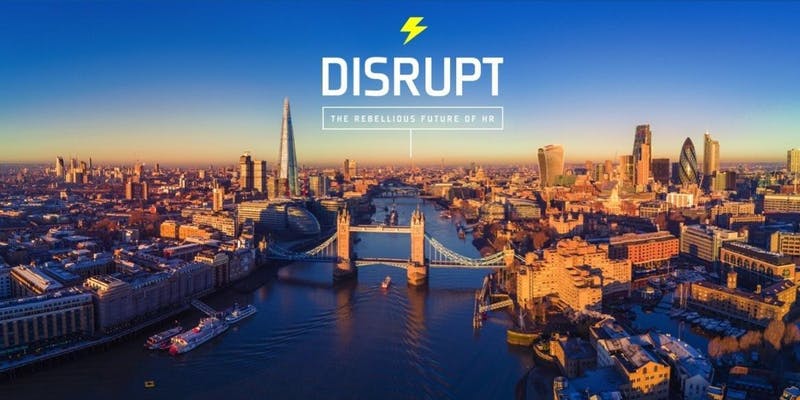 1.DisruptHR London #8
DISRUPT is an information exchange designed to energise, inform and empower executives, business leaders and people in the HR field.
Are you tired of the same old approach to Human Resources? Are you ready to start talking about talent in a whole new way? DisruptHR is for you!
WHAT IS DISRUPT HR?
DisruptHR is built on the belief that how we've approached people and talent in the past won't be the best way to approach them in the future. DisruptHR is founded on the idea that ALL business leaders (and that includes you, HR!) need to be ready to take some risks, to stir the pot…in short, to DISRUPT.
Location/ Date / Time – Peakon, 25 Charterhouse Square, London ,EC1M 6AE ,United Kingdom. Tue 5 June 2018 17:30 – 21:00 .. Learn More >>
_______________________________________________________________________________________________
2. Retail Excellence HR Forum
The Forum will provide an excellent learning and networking opportunity for discerning HR Directors, Managers and Executives as we will have a host of expert speakers from Maples Solicitors, Tom Smith & Associates, Excel Recruitment, The Grafton Group,MJ Flood Technology along with others who will: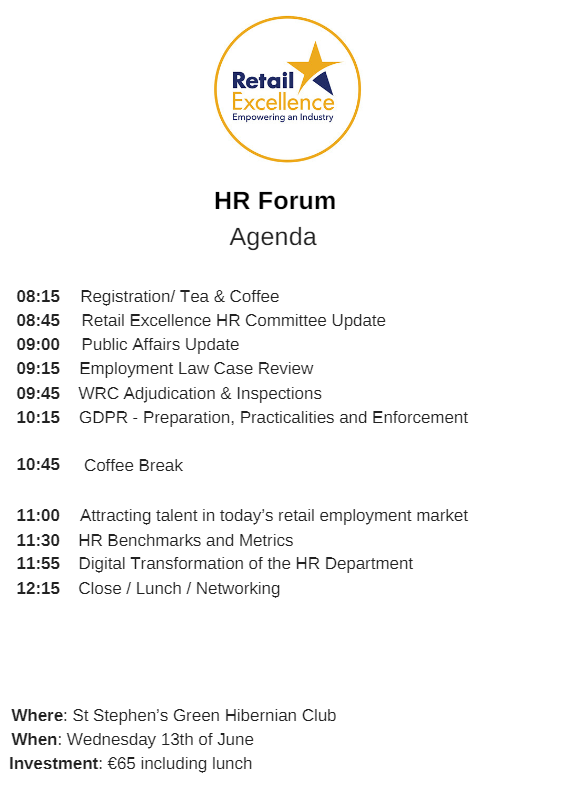 -Empower you with an in-depth review of current and relevant employment case law
-Inform you what is happening on the ground in the WRC
-Provide you with practical preparation and enforcement advice for the GDPR
-Give you an overview of the current retail employment market
-Advise you how you can attract key talent to your business
-Inform you about the HR benchmarks that matter to you
-Explain the Digital Transformation of the HR Department
-Explain how the HR committee & Retail Excellence can support you
-Help you build your HR network
The Forum will commence promptly at 8.45am with the Chairperson of our HR Network, Tracy O'Brien, welcoming all attendees and will conclude at 12:15pm sharp when thereafter you have an opportunity to have a light lunch and network with colleagues
Date:  Wednesday 13th June
Time: 08.15 – 12.15
Location: The St Stephen's Green Hibernian Club, 9, St Stephen's Green, Dublin 2
Fee: €65 (Ex VAT @23%) Learn More >>
_____________________________________________________________________________________________________________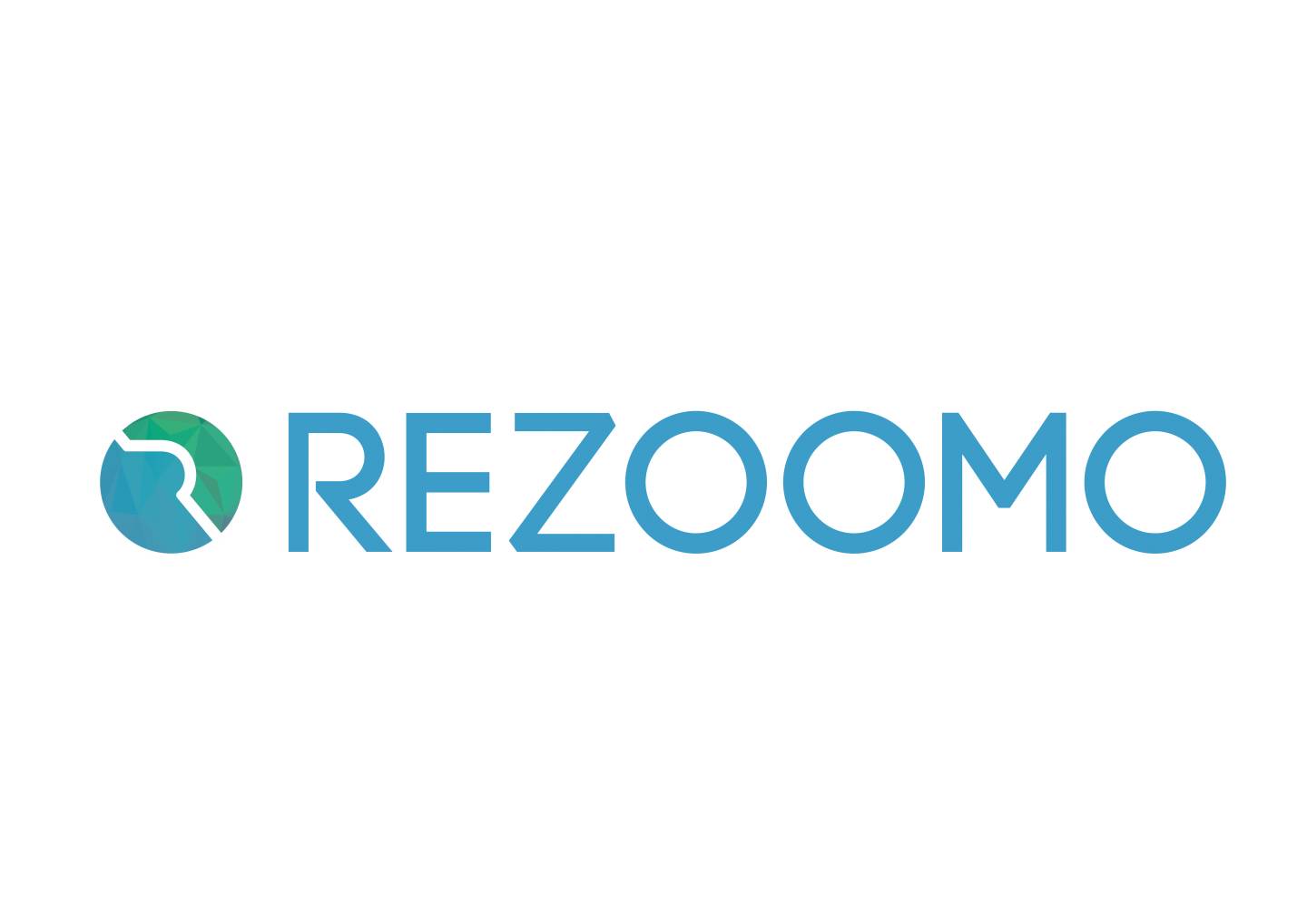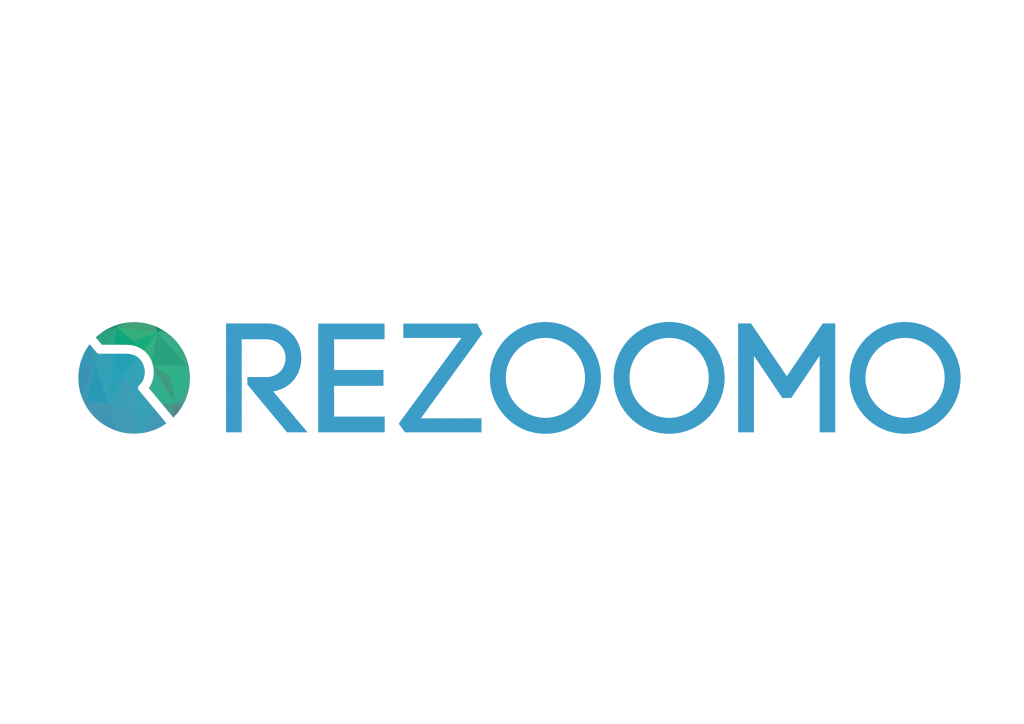 3. REZOOMO
Building your Employer Brand
In today's candidate-driven market, companies need to place employer branding at the centre of their recruitment strategy if they are to attract and retain the right people.
On June 29th, 2018, Rezoomo will host a breakfast briefing at the Bank of Ireland Workbench. The event, a must for HR professionals everywhere, will examine the topic of employer branding.
At the event, you will hear from subject matter experts including Cathal Doorley, CEO of Rezoomo, Joe Hendry, Director of Talent Acquisition EMEA at VMware, Leona O'Sullivan, Global Talent Branding Manager VMware and Michelle Fogarty, Co-Founder of Pep Talk.
Topics for discussion will include:
Employer Branding – what is it, why it's so important and how you can promote it
Corporate Culture – understanding your culture, evolving it and the importance of culture as part of your employer branding strategy
Corporate Workplace Wellbeing – why it's so important, how to instigate and promote it as part of your employer branding strategy
This event is free to attend but pre-registration is essential.
Light breakfast refreshments will be served from 7.45am, with presentations getting underway at 8am sharp.
We look forward to meeting you on the 29th!
DATE AND TIME
Fri 29 June 2018 , 07:45 – 09:15 IST
LOCATION
Bank of Ireland Workbench ,Bank of Ireland ,St. Patrick's Street ,T12 FP62 Cork 
 ______________________________________________________________
4. MENTAL HEALTH CHARTER SEMINAR
Employment Law Compliance and HR Best Practice Workshop
Mental Health Charter Seminar – 10.30am – 12.30am
Learn how signing up to the voluntary Mental Health Charter and the action measures can help your organisations to identify sources of information and support from the partners in the Mental Health Charter.
Dates & Location
Tue 5 June 2018 – Fermanagh House, Enniskillen
Who should come: Employers- large/small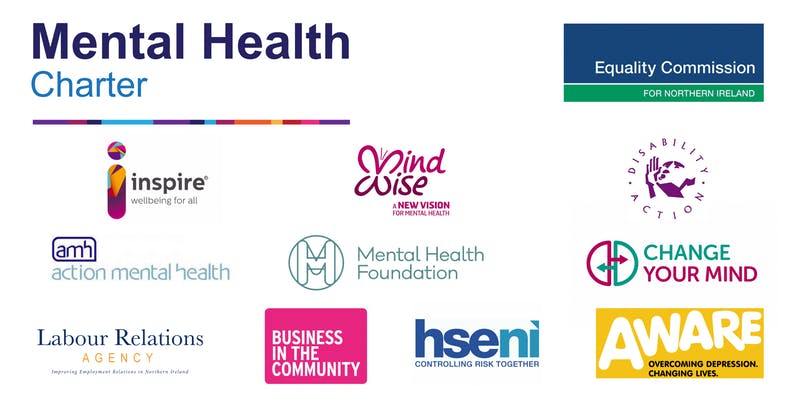 Click here for the agenda

Workplace mental health should be a priority for employers in Northern Ireland – together we are supporting employers to deliver open and inclusive workplaces.
Did you know mental ill health is 25% higher in Northern Ireland?
Do you know how to intervene early when employees are struggling?
What preventative measures are you taking to protect the mental health of your workforce?
Have you reviewed your policies for mental ill health?

If you would like further information on this workshop, please contact Una Wilson on 028 9050 0578 or email [email protected]
_________________________________________________________________________
5.Legal-Island
Contracts for the Modern Employment Relationship
In association with McDowell Purcell, this employment contracts event will bring you a masterclass on contracts for the modern employment relationship.  In one day, this seminar will:
Enable you to stress test your current template so you can identify which clauses in your template contract of employment need to be updated
Arm you with "best in class" clauses which you can incorporate into your template contract
Identify where standard clauses, including restrictive covenants, need to be brought up to date with the digital world
Show you how to build flexibility into your contracts to enable the organisation to adapt and react to a fast-changing global economy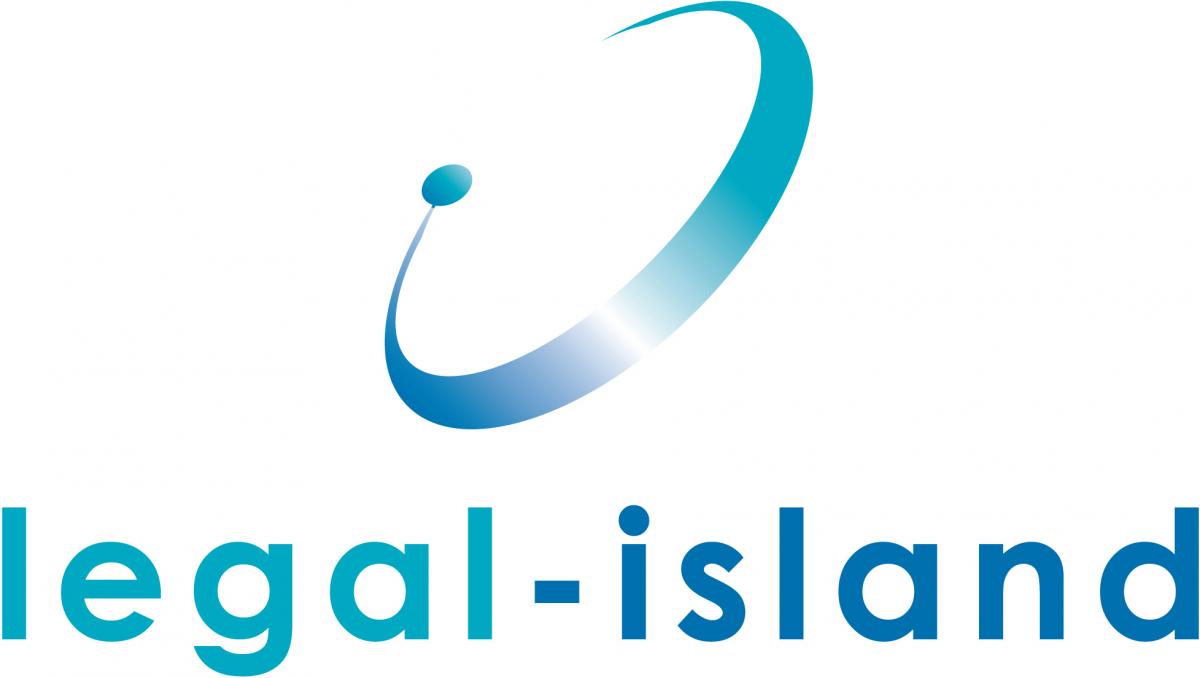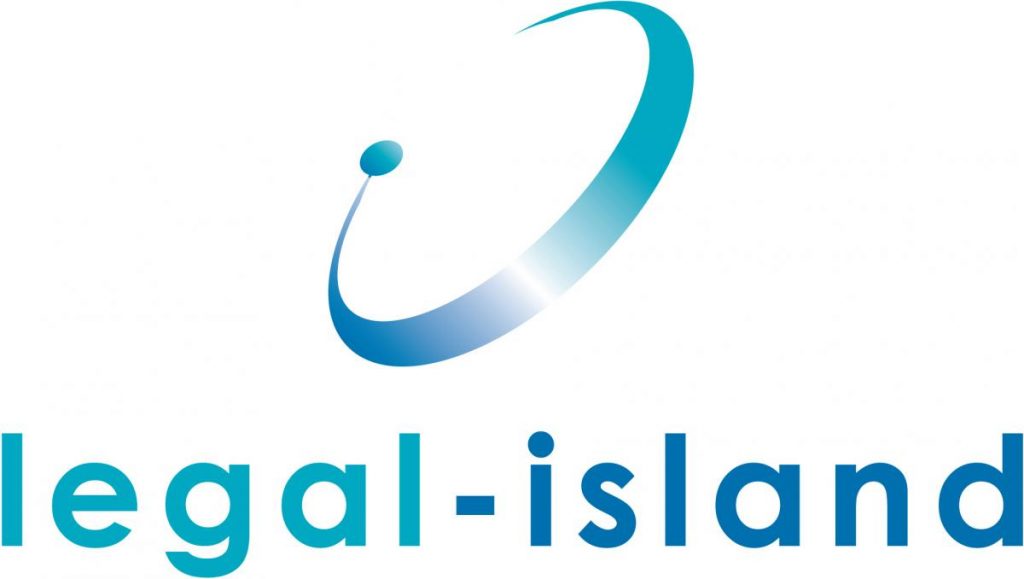 Why is this event important for you?
In a fast-changing global work environment, where employers are faced with ever-increasing demands for flexibility from clients, contractors and employees alike, the effective management of your contracts of employment has never been more important. Failure to build the flexibility and scope into your contracts of employment to enable your business to move with the times, keep pace with competitors and adapt to economic pressures, whilst remaining compliant with employment law, will thwart growth and competitiveness.
After attending, you will receive a plethora of useful contractual clauses that can be used to build flexibility and safeguards into your employment contracts.

You will be able to use those clauses to:
lawfully handle contractual variation
minimise legal challenges when terminating a contract of employment
build flexibility into your employment contracts in accordance with strategic fit
safeguard your organisation through the inclusion of lawful and reasonable clauses in the terms and conditions of the employment contract
The event is a must for any organisation either looking to update their contracts of employment in 2018 or looking to introduce organisational change.
Who should attend?
This event is for HR professionals who are responsible for employment law matters or who are involved in developing policies and HR strategy within their organisation.When and where?
9.20am – 4.30pm on Wednesday 6th June 2018
The Gibson Hotel, Point Square, Dublin
Price…
Charity/Small Company* Rate: €495
Standard Rate: €550
Save an additional €20 if you pay online when booking Learn more >>
 _________________________________________________________________________________________________________________________

6. 2018 Operations Conference
HR teams are often being asked to do more, yet with less resource and less budget. What are the new tools and techniques that HR can utilise to increase how they deliver? How can they use transformational culture models, new thinking and reinvented processes to engage with managers, increase productivity and create HR excellence?
The 2018 HR Operations Conference explores the changing landscape of employment relations, how to move HR to be about human relationships, how to use transformational business culture initiatives, be an authentic HR leader and use new tools like neuroscience and design thinking to be an HR team of the future.
If you'd like new ideas on delivering HR excellence, make sure you join us.
Event Details
London – Thursday 21 June, Liverpool St
Leeds – Thursday 28 June, Queens Hotel
Tickets
Early Bird £345 + VAT
Full priced £495 + VAT
Learn More >>
____________________________________________________________________________________________________________________________________
7. IBEC
Employee Engagement Webinar
This webinar will cover the basics of employee engagement and address the current opportunities and challenges for employers who are seeking to enhance the levels of engagement in their workplaces.
Presented by Claire Hellen, HR Strategy Specialist, Knowledge Centre.
Please register for the webinar at the link below:
https://register.gotowebinar.com/register/3621294712356493570
As this webinar is exclusive to member companies only, you must register with your company email address and contact details.
Event Details
| | |
| --- | --- |
| Date: | 26th June 2018 |
| Time: | 09:30 – 10:00 |
| Duration: | 30 mins |
| Venue: | Online |
Have an event coming up in July? Email details of your event to [email protected] to get it featured for free. 
---
---