The seasonally adjusted unemployment rate fell marginally to 5.3% in October.
It stood at 5.4% in September.
It compares to an unemployment rate of 6.6% in October of last year.
According to the latest figures from the CSO, the rate of youth unemployment fell from almost 13% in September to 12% in October.
That is down from 16.5% in October two years ago.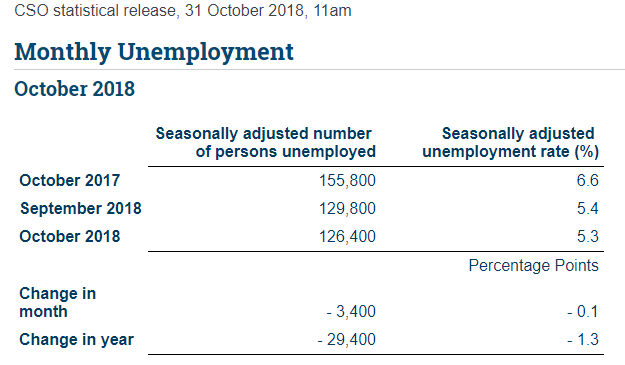 Alan McQuaid, chief economist with Merrion, pointed out that the jobless rate in October was the lowest since February 2008.
"It's an almost eleven percentage point improvement from the peak of 16% hit in January/February 2012 during the financial crisis. Furthermore, Ireland's jobless rate is close on three percentage points below the current eurozone average of 8.1%," he said.
Emigration has been a factor to some degree in keeping unemployment down since the financial crisis, he pointed out.
"The labour market has improved dramatically over the past few years, reflecting the strengthening of the economic recovery," he added.