Everybody wants to feel valued and appreciated and that includes your employees. Recognition is among the top ten things employees want from the workplace according to a study by the Corporate Executive Board CEB.
The goal for any employer or manager is employee retention. After all, you've spent a considerable amount of time and money in developing that individual.
Showing appreciation for your employees is essential in creating a culture of mutual respect and maintaining morale. Employee recognition and gift giving at any time of the year – birthdays, work anniversaries, promotions, corporate holiday gifts – are gestures that create a healthy workforce. Employers today want to ensure they pick the best gifts for their staff. Something they will enjoy and remember.
A PERi-PERi nice surprise
Nando's employee Ella Stephen Talent Acquisition Resourcer at Nando's UK & IRE recently received a PERi-PERi nice token of appreciation from her employees an extra 4 weeks of paid leave for her 5 years of service!
"I've been working for Nando's for just shy of 6 years. I started in restaurants when I was 16 just part-time. I had such a supportive management team who encouraged and inspired me to grow and develop.
Now 6 years later I'm part of the people team working in the talent team helping find future talent for Nando's. Receiving my sabbatical last year was such an honour I couldn't believe how the years had flown but I'm looking forward to my time relaxing!"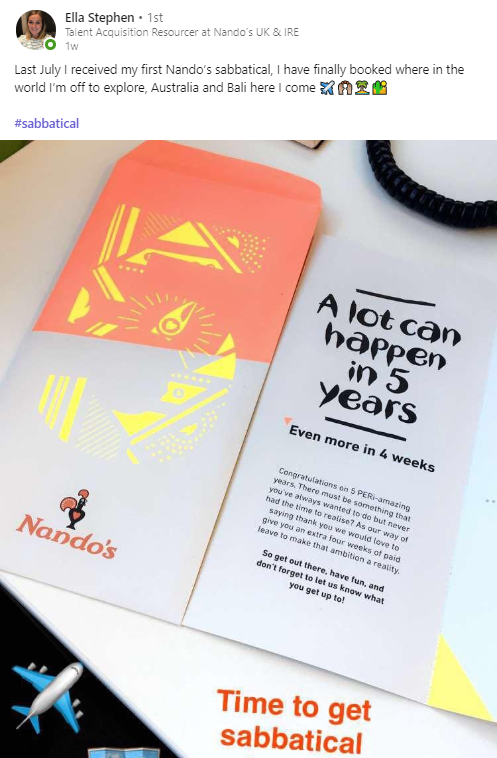 Nando's employee Manassh Banga Talent Acquisition Social Media Executive at Nando's UK & IRE received his second sabbatical gift from the Nando's team. 
"I started in Nando's almost 10 years ago, so I've spent a third of my life with the PERi goodness! Everyone who works for Nando's gets a 4 week paid sabbatical every 5 years, so I'm lucky enough to be having my second one.
For my first one I trekked around Thailand for a month which was incredible, and I feel very fortunate to have the opportunity to be planning another one. Japan? Vietnam? India? Columbia? I haven't decided yet, but one thing is for sure…it's going to be an(other) adventure of a lifetime."
Hats off to the Nando's Team for such a great incentive!

?