When it comes to providing feedback to candidates are you confident? If so you are one of the lucky few. When it comes to giving feedback a lot of hiring managers fear to put their foot in it due to legalities. 
Although the thought of giving feedback can send shivers down your spine. It is something that your company should start embracing, as it actually can help you with your recruitment process.
5.5% of candidates are given feedback that they find moderately useful from employers when notified that they were not selected; of that, a small percentage 2.6% of candidates received "specific and valuable feedback." Of course, candidates were lucky to receive any feedback at all; 49% reported not receiving any feedback in the first place. Another 20% of those that did were provided "general or limited feedback."
So, by providing feedback on how can it help your companies recruitment?
The Importance Of Feedback 
According to LinkedIn candidates are 4 times more likely to co-apply for a job with your company in the future if you have given them constructive feedback. Whether the candidate has been successful or unsuccessful feedback is important either way.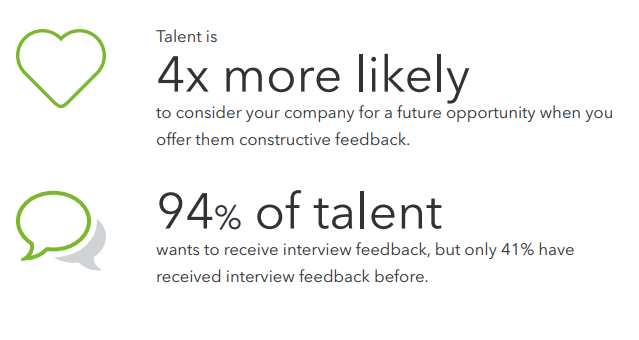 Candidate Experience Best Practice
Communication is key in order to provide a flawless candidate experience. So, providing feedback after an interview should be no different. Candidates talk and if they feel like they have had a poor quality experience they will spread the word. Your company's reputation and appeal can rapidly plunge down a dark, negative rabbit hole if candidate interview feedback is lacking.
Although you may find yourself busy, you really should take a couple of minutes to send a quick email that provides the candidate with a reply to their interview efforts. Remember, this will also encourage them to apply for future roles at your company and give positive feedback to friends and family about their application process with your company. 
Sample Interview Feedback Email 
Dear [Candidate_Name],
Thank you for taking the time to apply to [Company name]. We wanted to let you know that we have chosen to move forward with a different candidate for the [Job title] position.
Although our team was impressed with your interview we are looking for someone who [e.g. has more experience in marketing / can take full responsibility for our marketing goals / is fluent in French]
Now that we have had the chance to learn more about you, we will keep your CV on file for future openings that suit your qualifications. If you think you qualify for an open position in the future, and you would like to apply, please feel free to reach out.
Thanks again for your interest in [Company name] and best of luck with your job search.
Kind regards,
[
Your name
] [
Signature
]
---