If you take a look at recruitment in a traditional sense, its definition has completely transformed in just the last decade. What used to be simply filling an open role has evolved into a complete data-driven, professional networking and strategic line of work that creates real changes in a business.
Recruiting with social networking sites is fast becoming a way of life. Since the beginning of the social media era, our world revolves around posts or tweets and communication has become extremely convenient, quick and effective.
Social recruitment is a must have for any successful recruitment strategy as it will help you to take advantage of the global marketplace. This type of recruitment is about engaging with users and using social media tools to source and recruit the best talent.
We recently conducted a survey of 100 participants from across Ireland and the UK who are currently seeking employment. Here are some of the main takeaways (scroll down for infographic).
Social job seekers 
85% of the participants use social media when searching for a job . Platforms included are Facebook , Twitter, Linkedin, Instagram and Google + a breakdown of the study shows the most popular used.
40% use Facebook
15% use Twitter
35% use LinkedIn
5%  use Instagram
3% use Google +
2 % use other ( this includes Snapchat and Blog sites)
Mobile phone usage 
65% of the participants use their mobile phone when searching online for job vacancies. The other 35% use their laptops or tablets.
Importance of social media when recruiting
85% of job seekers said that they find it important that companies use social platforms when advertising vacancies to attract talent.
93% said that if they saw a job on a social platform they would share it with a friend/family member or colleague if they thought it would interest them.
76% of participants said that they would visit a companies social media platforms before applying for a job.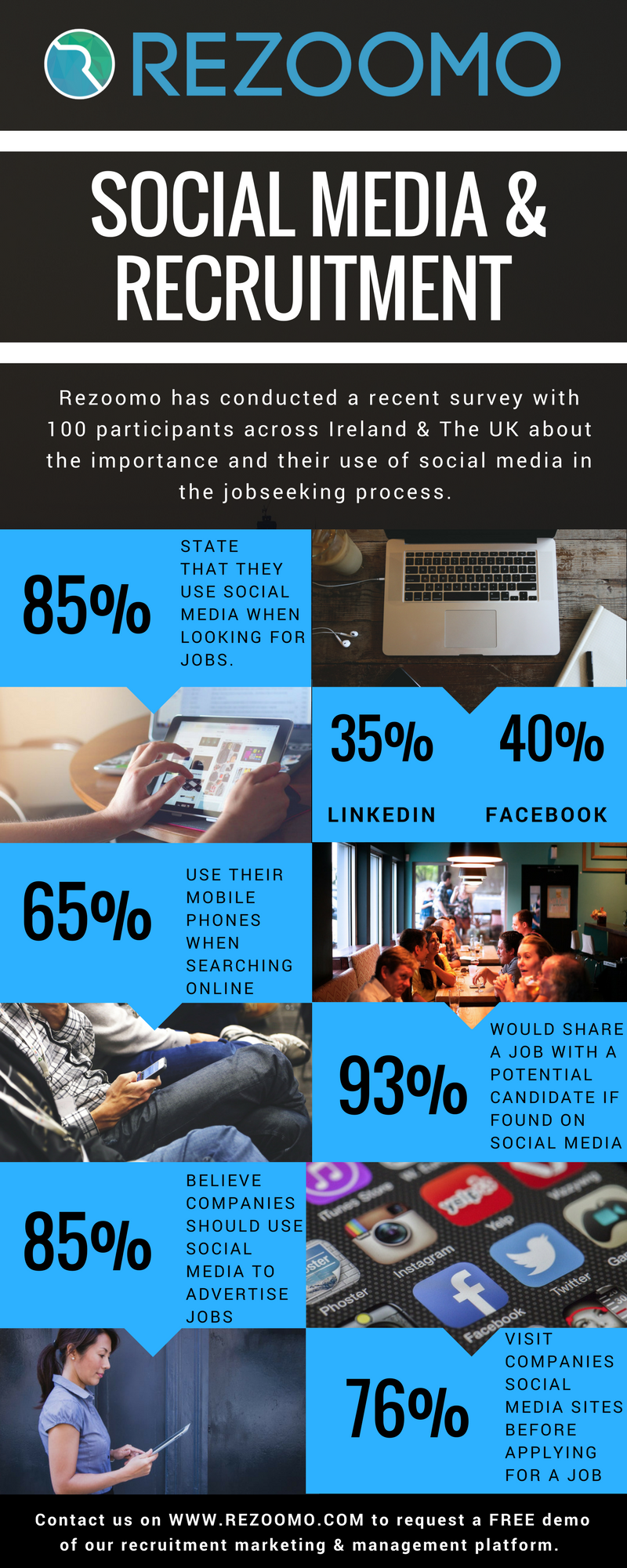 ---