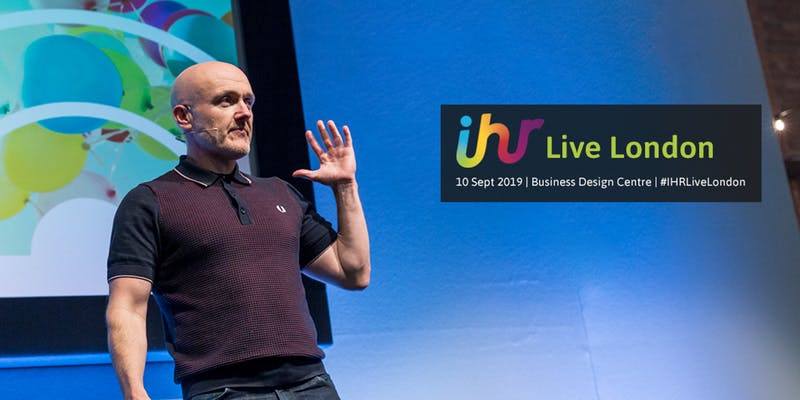 1.In-house Recruitment
In-house Recruitment Live London
On the 10th September 2019, thousands of In-house Recruiters, industry visionaries and disruptors will gather for the return of the hugely successful In-house Recruitment Live London. This 1-day exhibition will present an abundance of opportunities for you and your team to push boundaries and discover new and better ways of recruiting.
You can view our event here!
#in-house #recruitment #exhibition
Event Details: Tue, September 10, 2019, 8:30 AM – 6:00 PM BST, Add to Calendar
Location: Business Design Centre, 52 Upper Street, N1 0QH, United Kingdom, View Map
********************************************************************************************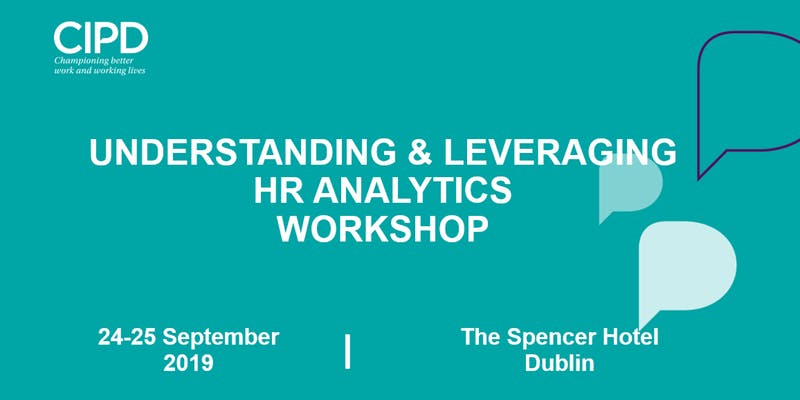 2.CIPD Ireland
Understanding and Leveraging HR Analytics
Gain a deeper understanding of your workforce and improve the quality and credibility of HR insight and decision-making
Overview
This two-day programme is designed to give you a deeper understanding of your workforce and improve the quality and credibility of HR organisational insight and decision-making.
Employee salaries and HR programmes frequently account for close to half of an organisation's operating expenses. One reason for this high level of investment is the recognition that people are the ultimate source of innovation and competitive advantage. In order to leverage maximum employee value and potential, many leading organisations are turning to human capital analytics to gain a deeper understanding of their workforces, and improve the quality and credibility of HR decision-making.
This two-day programme run by leading HR analytics expert provides an in-depth introduction to HR analytics and enables you to develop the skills to initiate a human capital analytics journey to improve organisation performance. It will provide tools and methods for:
Linking HR and business strategies
Assessing organisational readiness for analytics initiatives
Building the business case for analytics
Demonstrating the credibility and value-added by HR
Using analytical insights to improve talent management processes
Defining the roles, capabilities, and structures required to maximise analytics effectiveness.
Who is it for?
Successful human capital analytics requires collaboration and cooperation between many parts of the organisation, so this course is suitable for:
HR personnel: senior and general roles, HRBPs, training and development, talent management, organisational development, and workforce planning analysts
Financial stakeholders wanting to better quantify the potential value of their workforce
Strategic planners seeking to align market and environmental needs with required workforce capability
IT specialists responsible for implementing the technologies underpinning their organisation's analytics initiatives.
No prior knowledge or understanding of HR analytics is required. And, with group sizes of no more than 14, you'll be able to interact with like-minded colleagues from a range of organisations and focus on developing your own knowledge, skills and understanding in this area. The small group size also allows you to focus on your business, and understand the steps you can take to embed analytics in your workplace. By the end of the course, you'll be in the position to initiate a human capital metrics journey that will help to improve the quality and credibility of your HR decision-making through HR data, metrics and analytics.
Event Details: Tue, 24 Sep 2019, 09:00 – Wed, 25 Sep 2019, 17:30 IST, Add to Calendar
Location: Spencer Hotel Dublin City, Excise Walk, IFSC, View Map
********************************************************************************************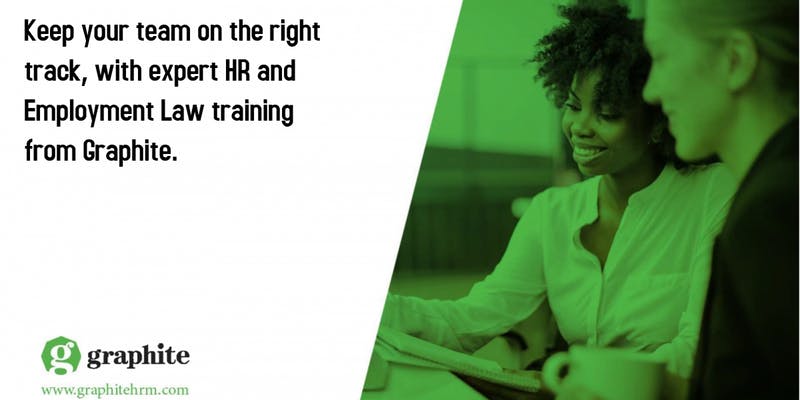 3.Graphite HRM
Employment Law Compliance & HR Best Practice
Graphite HRM cordially invite you and a guest to our complimentary briefing on EMPLOYMENT LAW COMPLIANCE AND HR BEST PRACTICE
About this Event
Find it hard to keep up-to-date with the latest changes to employment law and HR legislation?
Is your business prepared for the challenges ahead in 2019/2020?
This event, hosted by an Employment Law & HR Expert, will provide the knowledge and tools to ensure your organisation remains compliant and operates in line with best practice.
Agenda for the day:
09.45am – 10.00am Registrations & Refreshment
10.00am – 11.00am Update on upcoming Employment legislations including the controversial employment (Miscellaneous Provisions) ACT
11.00am – 11.15am Break & Networking
11.15am – 12.15pm Key HR policies needed in a growing business
12.15pm – 12.30pm Q&A
Event Details: Thu, 19 September 2019, 09:45 – 12:30 IST, Add to Calendar
Location: The Clayton Hotel Galway, Ballybrit, Galway, View Map
********************************************************************************************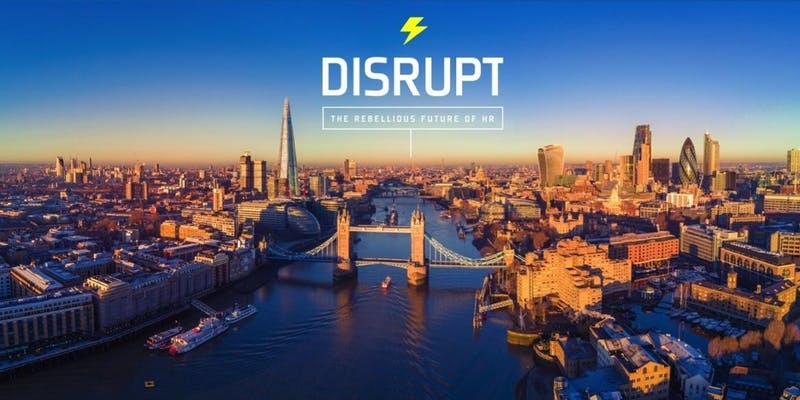 4.Disrupt
DisruptHR London #13
DISRUPT is an information exchange that energises, informs and empowers executives, business leaders and people in the HR field.
Are you tired of the same old approach to Human Resources? Are you ready to start talking about talent in a whole new way? DisruptHR is for you!
This is unlike any other HR event you will find in London.
WHAT IS DISRUPTHR?
DisruptHR is built on the belief that how we've approached people and talent in the past won't be the best way to approach them in the future. DisruptHR is founded on the idea that ALL business leaders (and that includes you, HR!) need to be ready to take some risks, to stir the pot…in short, to DISRUPT.
SEPTEMBER'S SPEAKERS: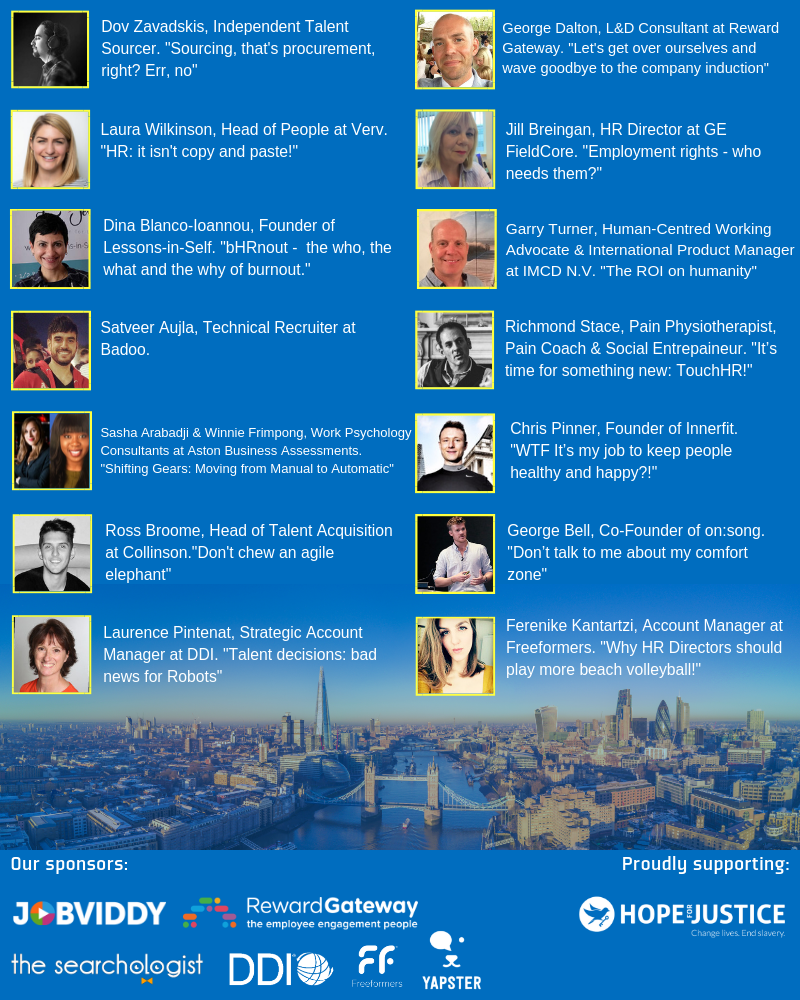 WHAT'S THE DEAL?
Join us for a lively evening of spirited, focused presentations by local professionals who will share their disruptive ideas on how to move our collective thinking forward when it comes to talent. We're taking the brilliance of TED Talks, adding a pinch of energy from Ignite events, finishing it with a dash of "talent" and giving each speaker 5 minutes to blow your mind on topics relevant to the human experience in the workplace!
Event Details: Tue, 10 September 2019, 17:30 – 20:30 BST, Add to Calendar
Location: Cargo, 83 Rivington Street, London, EC2A 3AY, United Kingdom, View Map
********************************************************************************************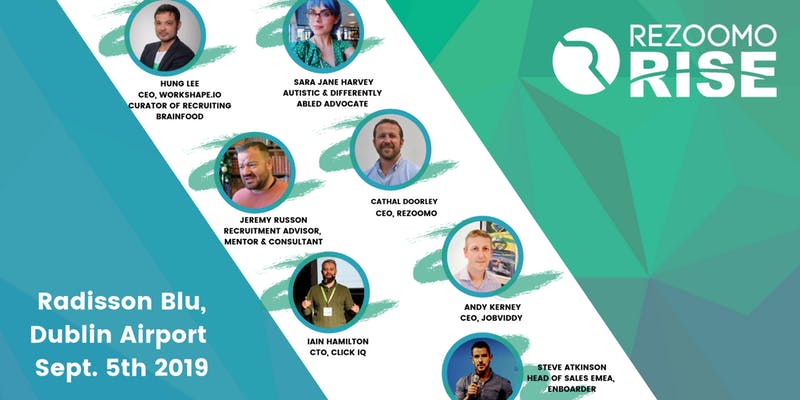 5.Rezoomo
Rezoomo Rise
RISE ABOVE THE COMPETITION WITH REZOOMO
On September 5th, the finest minds in the recruitment industry will gather in Dublin for Rezoomo Rise. With an exciting line-up of speakers, renowned for their industry knowledge and experience, this one-day event is guaranteed to give you the insights, tips, and tricks you need to stand out from your competition and win top talent!
Agenda:
***9.30am: Registration***
Tea, coffee & pastries will be available
10-11am: Internet Trends: Impact & Opportunity for Recruiters
Speaker: Hung Lee, CEO Workshape.io & Curator of Recruiting Brainfood
11-12pm: The Case for Video Recruitment
Speaker: Andy Kerney, CEO JobViddy
***12-1pm: Lunch***
1-2pm: Maintaining & Embracing Neurodiversity In the Workplace
Speaker: Sara Jane Harvey aka Agony Autie
2-3pm: The Marriage of Programmatic Advertising & Candidate Experience
Speaker: Ian Hamilton, CTO ClickIQ
***3-3.15pm: Coffee Break***
3.15-4.15pm: The Importance of the New Hire Experience
Speaker: Steve Atkinson, Head of EMEA Sales Enboarder
4.15-4.30pm: What's ahead for Rezoomo
Speaker: Cathal Doorley, CEO Rezoomo
4.30-5.30pm: Networking Drinks
Event Details: Thu, 5 September 2019, 09:30 – 17:30 IST, Add to Calendar
Location: Radisson Blu Hotel, Dublin Airport, Dublin Airport, View Map
It will be one of the most interactive, informative and exciting events in the field of HR. To secure your FREE tickets just visit: https://lnkd.in/dSY9zZd
*********************************************************************************************
Have a recruitment event coming up in September? Email details of your event to [email protected] to get it featured for free