A happy workforce is a productive workforce. The more productive your employees are the more they will achieve and in turn the more successful the company will be, and, the lower your turn over rate will become.
It costs companies an average of six to nine months worth of salary just to replace an employee. So keeping your employees motivated really should be a priority.
While money may seem like the only way to keep team members content, that's not always the case.  43% of employees would likely leave their companies for just a 10% pay rise elsewhere.
With so many employees ready to exit at a moment's notice, organizations face an uphill battle to prove their value, or else risk losing out to competitors.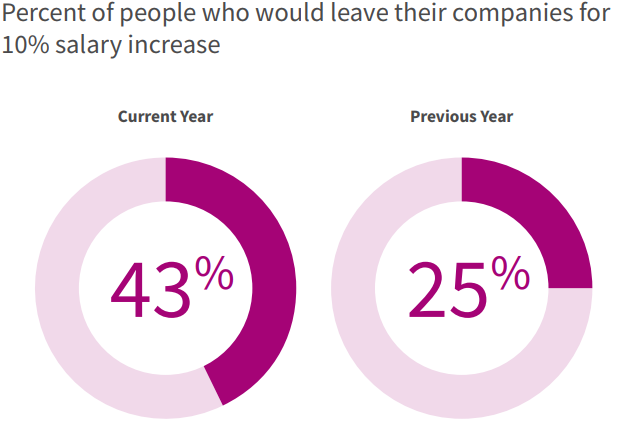 HR teams must zoom out and take a bird's eye view of the workforce as a whole.
This will mean streamlining communication lines, creating more inclusive workplaces, offering attractive benefits, and taking other actionable steps which work in-sync with the other employee engagement trends in 2019.
The Factors Of Poor Engagement

A recent report carried out by TINYpulse  reported that the top 10 pain points employees reported were:
1. Technical issues with the software, and other tools
2. Interruptions and disruptions from Slack, emails and noisy office environments
3. Poor communication from management/lack of training and information
4. Disorganized and time-wasting systems and processes
5. Misguided decisions from management / bad leadership
6. Lack of flexibility / no opportunities to work from home
7. Overworked/under-resourced team
8. Office politics/favoritism
9. Difficult customers
10. Too many meetings
So, instead of focusing solely on monetary incentives, try out some tactics that will get to the root of employee unhappiness and help turn things around:
Take time to celebrate accomplishments

Recognizing your employees' success is a very powerful strategy because it reinforces the meaning of hard work and teamwork. It's also a great esteem booster.
By showing gratitude toward your employees for their accomplishments they are more likely to try harder and contribute more. It also helps forge stronger relationships and respect between employees and management.
Keep employees in the loop 
Being transparent with your employees helps them to align their own work goals with your company goals. A report by TINYpulse found that Overall, managers are 11% more likely to have a clear idea of how their company is performing than regular
employees. This is hardly surprising – managers are supposed to have a better view of the big picture.
Nevertheless, the finding does present an opportunity for employers to boost engagement and productivity in their team: Employees who understand how their impact drives the success of the business overall are much more likely to know how to optimize that impact.
Be Transparent with Promotions
Transparency is key in any managerial role. Employees need to know what's expected of them and what to expect from you as their manager.
It's important to be upfront and clear with your team about how they can progress in their career with the company
Encourage Employees To Take Breaks
Occasional breaks are another key component of adaptability and flexibility in the workplace. They give your employees a chance to rest, recharge, and connect with their colleagues.
Yet, one study states that only 33% of employees actually take breaks during the workday.
If you're curious about how to raise morale in the workplace, actually encouraging your staff to step away from their desks every once in a while can be a big help.
Don't forget to have fun 
Keeping fun in the office as part of your regular schedule is great for employee engagement and team bonding. Break up the day with a little bit of fun and work won't seem as much like work.
A few minutes away from the desk can improve productivity for hours and provide consistent increases to moral worth far more than those few lost minutes of work.